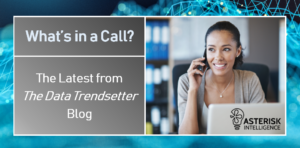 Has your credit union been utilizing Phone Operator to its full capabilities?  How is your staff engaging with members when they contact your credit union?
Sarah Ashby, the Asterisk Intelligence team's Marketing and Business Intelligence Analyst through Xtend, recently shared her insights on Phone Optics Data in a recent blog post titled, 'What's in a Call'.  In this entry, Sarah poses questions and explores opportunities on how Phone Optics can be used not only to answer questions your members may have, but to make them feel valued as well.
Check out this post today – click here to visit Sarah's blog, 'The Data Trendsetter'.  Want to stay up to date on Sarah's latest articles and insights?  Click here to subscribe.