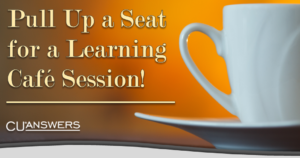 Here comes another Learning Café session!  Join Josh Peacock and Thomas Hull of the Asterisk Intelligence team as they dive into the features of Analytics Booth.  Topics that will be discussed include an overview of the Analytics Booth software, what data can be gathered from our various Dashboards, support and training options, what lies on the horizon for Analytics Booth, and more!
Monday, May 22
12:30 PM – 1:30 PM ET
Don't forget: CU*Answers web conferences are always free to attend!