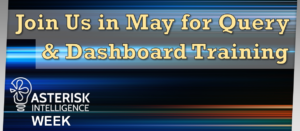 Join the Asterisk Intelligence team for a week of in-person educational events, May 13-16 in Grand Rapids, MI!  These events are designed for credit union management, marketing staff, and database administrators.
We are excited for the high level of interest in our on-site query courses.  Attendance is almost full for our May session, but we have additional spots available for those interested in joining us for the August session of Asterisk Intelligence Week!
There are still a few seats available for our on-site dashboard training.  If you are interested in joining us for these in-person sessions at our CU*Answers headquarters, visit our website and register today!
Additionally, we will be hosting several webinars on a variety of topics, including an introduction to our Analytics Booth software, a look at Data Warehouse Tools and Strategies, current hot topics in Database Management, and more!
Follow the link below to sign up for any of our on-site and webinar courses for Asterisk Intelligence Week.