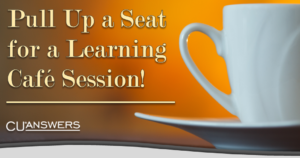 Here comes another Learning Café session!  Join Megan Ernsberger and Linda Stearns of SettleMINT EFT as they discuss how your credit union can set up credit card promotions.  Join Megan and Linda for a demonstration on how these promotions can be configured within CU*BASE.
Wednesday, April 24
3:00 PM – 4:00 PM ET
Don't forget: CU*Answers web conferences are always free to attend!