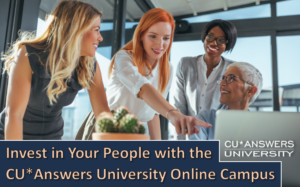 Available to all CU*Answers clients, the FREE campus provides a wealth of knowledge through CU*BASE courses and training courses, as well as reporting tools, individual development plans for your employees, and tracking tools as employees build their knowledge.
Learn More About Our Free Campus
Or, if you are seeking a broader selection of options, take a look at our Full and Platinum Campus offerings.  With additional courses, integrated classroom scheduling, branding options for your credit union, and so much more, the Full and Platinum Campus solutions allow you to invest in your people, increase assets, maximize your productivity, and provide outstanding customer service.
Learn More About the Full and Platinum Campus
Ready to get started?  Contact us today at education@cuanswers.com, or by phone at 800-327-3478 ext. 255