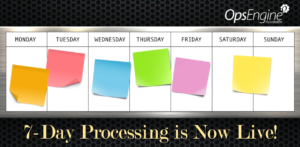 OpsEngine 7-Day Processing is now live!  As the business world takes on more of a 24/7 mindset, CU*Answers will be there to help support your credit union and serve your members!  Clients can now process on a more immediate and real-time basis, provide timelier automated funds transfers, perform general ledger balancing more easily, and more.  We look forward to working together as a cooperative to better support the needs of clients and members alike as this initiative grows and moves forward!
For further details on 7-Day Processing, visit the OpsEngine page on the CU*Answers website.
Have additional questions?  Check out our FAQ document.  Or, if you would like to contact the OpsEngine team directly, click here!