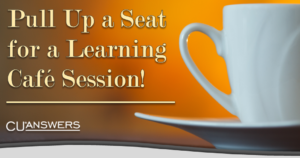 Here comes another Learning Café session!  Join Laura Welch-Vilker and Kasey Woodhead of the Client Services and Education team as they discuss the Western Region Shift.  Learn about the new support hours at CU*Answers, how the Western Region Shift will affect our clients going forward, including how this will help to prepare both our clients and the day shift at CU*Answers for the following day.
Thursday, January 17
3:30 PM – 4:30 PM ET
Don't forget: CU*Answers web conferences are always free to attend!