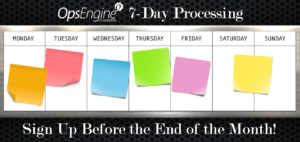 Beginning in February, CU*Answers will offer Sunday Processing.  As the business world takes on more of a 24/7 mindset, CU*Answers will be there to help support your credit union and serve your members!  The deadline is today – don't forget to sign up!
Credit unions have asked for ways to be accessible to members 24/7, even when their branch locations are not open.  CU*Answers has listened, and we look forward to working together as a cooperative to better support the needs of our clients and members as we shape and move forward with this new initiative!
Please note: if you do not submit the form by the end of the day, you will automatically be opted-in for 7-Day Processing.
For further details, visit the OpsEngine page on the CU*Answers website.  Have questions about 7-Day Processing?  Click here!