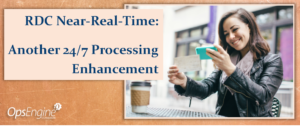 ATTENTION ONLINE CREDIT UNIONS
Accompanying the arrival of OpsEngine's 24/7 Time Zone Processing update, RDC (Remote Deposit Capture) Near-Real-Time Posting will speed up the time frame between when members make a deposit to when it is posted to their account.  Near-Real-Time RDC will be available to any and all credit unions who utilize eDOC as their RDC vendor, and that post through the OpsEngine RDC Posting Services.
A couple of additional advantages that this new process presents:
It will cost your credit union less, at a flat $25 per month fee, with unlimited transactions.
Members will see their deposits posted over the weekend, without having to wait until the next business day.
Near-Real-Time, as the name implies, is not instantaneous – transactions still need to be moved between members, eDOC, and CU*Answers, as well as comply with business rules.  However, the process will still be much faster than the current batch schedule.
If you meet the aforementioned requirements, then you already qualify for Near-Real-Time Posting!  Keep an eye out for an additional announcement in December, when we will share the sign-up link via the CU*Answers online store.
Visit our website to learn more about 24/7 and what these changes mean to your credit union.