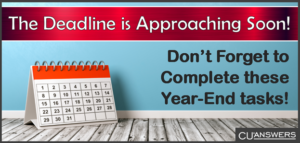 Make sure to complete your November year-end tasks!
No Later Than Monday, November 5
Online Credit Unions
Confirm year-end instructions by accessing and completing Tool #916 Update Tax Form Handling Instructions
Self-Processing Credit Unions
Confirm tax form archival instructions by completing the Tax Forms Archival Instructions form
Check on the other November deadlines and more in the guides, now available online. We will alert you of when to expect your printed guide.
2018 Year-End Processing Guide for Online Clients