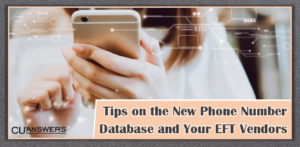 Now that the new phone number database has been in place for a few months, one of the questions we have been getting consistently has to do with how phone number maintenance is being sent to ATM/Debit and credit card vendors.  Although this was documented early on, it has taken some time for people to truly understand it and how the new system works in their particular environment, and we're seeing some inconsistencies in how people thought it was going to work.  Here's the straight scoop.
Following are links to AnswerBook items that specifically address the subject of EFT card maintenance:
With the new phone number structure introduced in the 18.07 release, where do the activation phone numbers that get sent with EFT card orders come from?
Because of how phone numbers are sent to EFT vendors, in the past we would sometimes use the same number in both "home" and "cell" for a member who didn't have a landline. Therefore we are seeing a lot of duplicate numbers in the new phone number database. Should I be cleaning these up and removing the extras?
After the phone number database changes we did a lot of reorganizing of some of our member phone numbers. Now we realize we probably shouldn't have done that. Is it possible to send a "refresh" list of phone numbers for all my members to my EFT vendors, so they can clean up their records?
Helpful Tip:
When changing the sequence number for an existing contact number you can only change it to a lower number, not a higher one. So to reorganize numbers start by selecting the one you want to be seq 1 and change it, then select the one you want to be seq 2, and so forth, in that order.