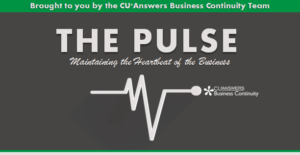 ATTENTION ONLINE AND SELF-PROCESSING CREDIT UNIONS:
2018 Statement Printing Recovery Test Results Available
At CU*Answers, we take our Business Continuity Program very seriously. We work extremely hard to design and develop the tools you need to best serve your members and succeed in the marketplace. And we work even harder to make sure that those tools are available when you need them. Our partners and key vendors are held to those same standards.
This October, the CU*Answers Business Continuity Team witnessed and participated in the 2018 SAGE Direct Disaster Recovery Test. Simulating the loss of their production facility, SAGE recovery teams received and processed raw statement files at their disaster recovery facility, then printed, folded and stuffed the individual statements for mailing at their alternate print vendor site. All of this was performed with the same controls in place to ensure the accuracy and security of each document processed.
Learn More
Details of this recovery event can be viewed on our website.  Additionally, you can view reports from previous recovery tests by clicking here.
The same experienced team who oversees the Business Continuity program for CU*Answers is also available to assist your credit union in developing and testing your recovery plan.  For questions about services available, visit our website, or contact a member of the CU*Answers Business Continuity Team today.