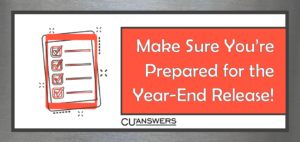 ATTENTION SELF-PROCESSING CREDIT UNIONS
Don't forget: the 18.12 CU*BASE Release is coming December 10-11!  In addition to tax-related changes, the year-end release will see the implementation of the LegaSuite and iAccess upgrades from the 18.11 Release.
It is very important that your credit union has the LegaSuite and iAccess upgrades completed before the year-end release arrives.  Please respond to helpdesk@cuanswers.com with one of the following to let us know your current upgrade status:
Yes, all of my workstations are ready with both the new LegaSuite and iAccess installed, including all of my printer sessions.
I am currently working on the upgrade process and will be ready by the December 10-11 implementation date.
I'm experiencing some difficulties completing the upgrade,and would like someone from Network Services to contact me.
Have questions about the LegaSuite and iAccess upgrade?  Please refer to this client news post (published earlier this fall) for details, including links to both AnswerBook items.