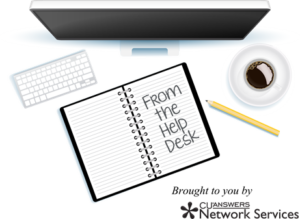 ATTENTION NETWORK SERVICES COMPLETE CARE CLIENTS
What Are We Doing?
We will be upgrading from Latitude to our new CNS support portal at: Helpdesk.cuanswers.com.
When Are We Doing This?
We will be performing this upgrade on Monday, December 3rd.
Why Are We Doing It?
After many years, we have outgrown our current system, and are upgrading to a new Helpdesk.
How Will This Impact You?
The new helpdesk will be available at: Helpdesk.cuanswers.com.
There are two options presented on the website – one for current existing tickets in Latitude, the other in Help Desk for new tickets starting on December 3rd.  Users will not be able to create new tickets in Latitude after December 2nd.  However, you will still be able to access Latitude tickets in read-only mode.  Users will receive an email on December 2nd with a password to log in to the new client.
You can view instructions on where and how to create service tickets via AnswerBook.  The Latitude system will remain active in read-only mode for one year following the transition, after which point it will be retired completely.
To access any of your existing tickets, please visit Helpdesk.cuanswers.com, then select 'Latitude'.
If you have questions or concerns, please contact the Help Desk at extension 266, or by email.