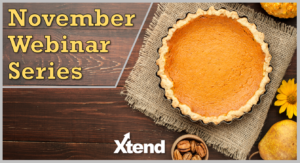 Coming Up Next Week!
Each month, Xtend offers FREE webinars focused on lending, marketing, and member service; these engaging webinars provide credit unions with helpful products, services, and industry tips to give them the leading edge.
Tuesday, November 13
2:00 PM – 2:30 PM ET
The Do's and Don'ts of Review Management
Did you know that 1 negative review can turn away 30 potential new members? Reviews = credibility, but there is a lot to consider when responding to and soliciting reviews. How can your credit union stand out when members and potential members are considering financial options online? Join Callahan & Associates for a webinar where we will discuss tips and tricks for creating a review management strategy that wins.
Key Takeaways Include:
Top do's and don'ts of reviews
Creating a review team structure
How and when to respond to reviews
Tips for getting more reviews
Wednesday, November 14
11:00 AM – 11:30 AM ET
2-Way Landline Texting, Powered by Zipwhip
Text enabling your existing landline number lets you get in a text messaging relationship with your customers. You no longer need to source a different number for texting—one number does it all. Member Service, Lending Support, and Collections are the most popular uses of this powerful communication tool!
Don't forget to use "Keywords" – Your member can text in a word like HOURS, and receive your pre-configured response automatically. Or how about texting in APPLY and receive a reply with a link to your online loan application (if mobile-friendly)!!
Try it right now! Text PRICING to 866-981-4983 and you'll receive an automatic answer in seconds!
Don't have your phone on you right now? No worries – Bring your mobile phone with you to the webinar to actively participate in our live demo!
Wednesday, November 14
2:00 PM – 2:30 PM ET
HTML eStatement Notification – Bring Your Brand into Your eStatement
Xtend presents the opportunity to turn your standard plain-text eStatement notification into an interactive, action inspiring eStatement notification. The eStatement notification doesn't have to serve as simply a notification that your member's eStatements have been posted. Xtend encourages you to take your marketing strategy to the next level by using this opportunity as another way to effectively communicate promotions offered by your credit union.
Join us to learn how making the switch is easy and affordable!
Thursday, November 15
2:00 PM – 2:30 PM ET
RevGen – Reach Your Marketing Goals
Xtend offers a cooperative marketing solution for your credit union's short-term promotions and long-term lending and deposit goals. Engage in a series of turn-key marketing campaigns that leverage the concepts of targeting and segmentation, along with Xtend resources. Take the pressure off of your member marketing needs and utilize Xtend's RevGen Marketing Campaign Program to spread the word about your promotions, products, and services through four key marketing channels.
Join us to learn more about using up to 6 flexible marketing campaigns with RevGen at one flat, affordable rate.