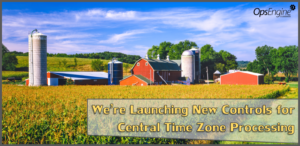 ATTENTION CREDIT UNIONS THAT RECEIVED THE ASSOCIATED EMAIL:
As you may remember from the recent Leadership Conference and CEO Strategies events, CU*Answers has been working on some major initiatives related to 7-day business weeks and processing across multiple time zones.
We have begun implementing one of these projects, a new process we're calling (at least until we come up with a catchier name): Enhanced EOB/BOD by Time Zone.  These new controls will allow us to run end- and beginning-of-day processing routines in one time zone without interrupting online service to credit unions in other time zones.  Since 11:00 p.m. in Michigan is only 5:00 p.m. in the Hawaiian time zone (and yes, we are converting a CU in Hawaii very soon!), we need to be able to handle daily processing in waves, moving from east to west across the country.
For the past couple of weeks the process has been running successfully for credit unions in the mountain time zone, and now we're ready to add all our clients in the central time zone.
What's the effect on your credit union?
In a nutshell, we will be making a minor change to some configurations for your CU so that when EOD/BOD is in process, users attempting to log in will receive a friendly message explaining that the system is currently unavailable, and to try again in 15 minutes.  That's all!  Even if we experience problems, it's a simple matter of adjusting a configuration setting back to the original, so your teams might not even notice.
The change will take place for your credit union on Tuesday, December 4.  We don't expect you'll notice anything but we ask that you simply pay attention and report anything out of the ordinary
Note: Changes will not affect your members via online/mobile banking, audio response, or EFT activity, and staff shouldn't notice anything unless they attempt to log in to CU*BASE when the system is processing nightly tasks. 
We will gradually add more CUs across additional time zones until mid-December, when we anticipate every CU to have the new time zone controls turned on.
We appreciate your contribution in making these important new controls a success!  If you have questions, contact Jack Carpenter, VP Production Center at jcarpenter@cuanswers.com or Darrell Stickler, Manager, Software Development, Production/Operations Teams at dstickler@cuanswers.com.
Learn more about 24/7 processing in the Kitchen:
https://www.cuanswers.com/resources/kitchen/24x7focusgroup/