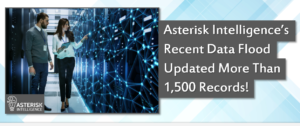 Asterisk Intelligence's new Data Flood service allows credit unions to perform mass updates faster and cheaper than ever before.  We recently completed our first free Credit Union Data Flood, and updated more than 1,500 membership records!
Our self-directed data floods will remain free through December 31st, 2018.  Then, on January 1st, 2019, Asterisk Intelligence will begin charging a professional fee to process the flood on behalf of our credit unions.  However, credit unions can avoid paying this fee if they wish to process the flood on their own – the Asterisk Intelligence team will be happy to offer education on how to perform the flood processing.
To order one of these pre-defined flood options, visit the CU*Answers store – we have more than 20 options available, including various loan IDs and codes.
Keep an eye on your inbox for more information, including when we will be hosting education sessions for clients who wish to perform their own flood processing!