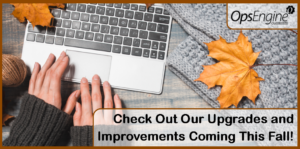 OpsEngine continues to bring new improvements to help execute your business.  Check out what we have coming in the next few months!
A push for 24/7 access and capability, to better support your members online.  As announced at the 2018 Leadership Conference, Sunday processing will be live starting in early 2019.  As the business world takes on more of a 24/7 mindset, we will be there to help support your credit union and serve your members!
ACH enhancements including additional ACH configuration capability and ACH processing by time zone.
The option to let CU*Answers produce your member notices, so you can focus on your members.
CU*Answers can post your remote data capture deposits so you don't have to – we work nights, weekends, and holidays too!
And, keep an eye out for more information on Powerline trending tools, powered by OpsEngine – we'll be delivering more information on this soon!
For more information, email OpsEngine Development Manager Jeff Miller, and watch for more information on the OpsEngine page on the CU*Answers website.