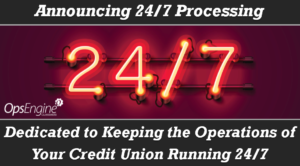 What does Time Zone Processing mean to me?
Time Zone Processing is the '24'. This means that we are continuing to make major changes in our processing approach to help you keep up with the speed of business today.  We are focused on making our processing environment work for you for as much of the day as we can.  We call it Time Zone Processing, and it's designed so that no matter where you are, we're working on your schedule.
7 Day Processing or the '7'. This means that we will start processing on your behalf seven days a week instead of six.  Business and life don't stop on Sunday; neither should your credit union.  While you may not open your doors on Sunday, we will continue to serve your members effectively, consistently, and securely no matter what day it is – so we're adding Sunday Processing.
We're focused on your business 24/7, 365 days a year.  Visit our website frequently for updates.