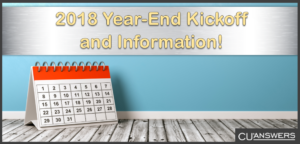 It's that time of year again!
We are busy verifying deadlines, completing the year-end guides, and preparing for training here at CU*Answers. Like previous years, a preview of the Year-End Processing Guide will first be available online by Friday, November 2. Your credit union's printed copy will arrive shortly thereafter. This is important to note as your first deadline occurs before the arrival of your printed copy!
No Later Than Monday, November 5
Online Credit Unions
Confirm year-end instructions by accessing and completing Tool #916 Update Tax Form Handling Instructions
Self-Processing Credit Unions
Confirm tax form archival instructions by completing the Tax Forms Archival Instructions form
Year-End Training Information
This year, CU*Answers will offer two sessions of training, combined for both Online and Self-Processing clients. Approximately 15 minutes at the end of each training will be dedicated to solely self-processor year-end tasks.
Tuesday, November 13
2:30 – 4:00 PM ET
Wednesday, November 28
10:00 – 11:30 AM ET
Time Tested and Trusty Tips for a Smooth Year-End
Select a coordinator to assign tasks and ensure they are complete.
Review the guide carefully, including any post-publication updates.
Review deadlines in advance to avoid missing a task and incurring a fee.
Have all year-end staff attend year-end training.
Pay special attention to year-end emails as requirements may change.
Ask questions! Our teams are here and ready to assist.