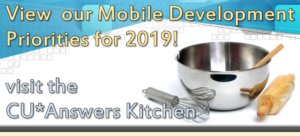 Have you visited the CU*Answers Kitchen lately?
Mobile development remains a high priority in our industry, and CU*Answers is preparing new initiatives for the coming year!  Our focus for the first 120 days of the 2019 fiscal year will include:
Pushing deployment of Mobile App 2.0 and 3.0 to our clients for free.
Rolling out new mobile solutions for It's My Biz 247 and using these as a template for a new It's Me 247 Mobile Web solution.
Continuing work on mobile infrastructure projects (including standalone P2P, RDC enrollments, and push notifications).
Starting the preliminary planning for Mobile App 4.0, with a targeted release no earlier than fall of 2019.
Beginning an initiative for a new Micro App Store.
This means that during the next 120 days or so, we are announcing a moratorium on responding to requests to customize or make changes to our mobile web or mobile app v2.0/v3.0 solutions, so we can concentrate our development efforts on these new business foundations.