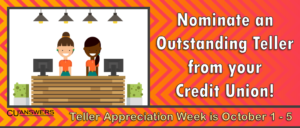 During the first week of October, Worldpay will be celebrating Teller Appreciation Week.  This is a time to pay tribute to tellers and frontline employees – these employees are the face of your credit union!  Worldpay is currently seeking nominations of employees who:
Provide consistent and excellent service
Takes into consideration the needs of the customer
Positively promotes the brands and products of their financial institution
Works with passion and a winning attitude
Five winners will be selected, each of whom will receive a $100 gift card and lunch for their branch location.
Want to nominate an outstanding teller from your credit union?  Click the link below!  Nominations will be accepted through Wednesday, September 19 (your credit union does not need to be a Worldpay client to participate).