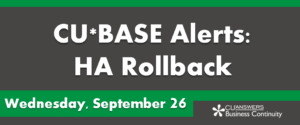 Remember that we will be rolling back late Wednesday evening, September 26.  Make sure someone is at your branches early the morning of Thursday, September 27 to check the connections before members start to arrive!
Even if everything went smoothly for you earlier this week, when three different environments have to work together (yours, ours, and our backup facility), anything can happen.  In fact, we actually hope things do happen every time we perform one of these exercises.  Like a fire drill at your office, dealing with what goes wrong means we are meeting our goal of practicing our response and the response of your teams, getting us ready for when a true emergency might arise.
Our teams will be here early on Thursday morning… will you?
We will be posting any/all issues related to the HA Rollback event to the CU*BASE Alerts page, compiled into a single alert located here.  We will not be sending out any emails regarding individual issues for the HA Rollback.  If you encounter any issues during or after the rollback period (scheduled for September 26 from 10:00 PM – 11:00 PM ET), please refer to the CU*BASE Alerts page to see if it is currently a known issue.