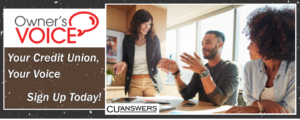 As a cooperative, we need your input to move in the right direction and to help shape our future together.  Owner's Voice is the culmination of the work put forth by participants of our 2016, 2017, and 2018 'Building Solutions as a Co-Op' Boot Camps.  The next big idea is out there: Owner's Voice gives our member-owners a voice in the decision-making process at CU*Answers, and a vehicle to grow, prioritize, add value to, and complete these projects.
How Do I Sign Up?
Participation on the Owner's Voice website requires users to sign up before joining the discussion or voting.  Follow the steps below to get started:
Visit cuanswers.com and click the 'Sign Up' button in the top right corner of the web page.
Review the terms of service
Enter a username, email address, and password, then select a language and timezone.  In order to prevent automated form submissions, enter one of the following answers in the field that reads "Which CUSO created this site?": CU*Answers, CU*South, or CU*NorthWest.
Double-check all information before submitting.  Once submitted, a confirmation email will be sent to the email address provided, as a record of enrollment in Owner's Voice.
Look for more information on Owner's Voice to be delivered to your inbox soon!
Have questions, or need help with the sign up process?  Contact us at ownersvoice@cuanswers.com.