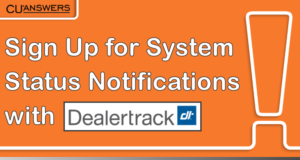 ATTENTION ONLINE AND SELF-PROCESSING CREDIT UNIONS WHO RECEIVED THE ASSOCIATED EMAIL
It has recently come to our attention that Dealertrack offers email notifications to keep clients informed of any changes or updates to their system status.
To subscribe, follow the link below, then select the 'Subscribe to Update' option in the top right corner of the page.  Enter an email address or phone number where you would like to receive notifications.  You will then receive a confirmation to complete your registration and be added as a recipient of these status updates.