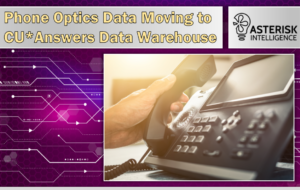 ATTENTION ONLINE AND SELF-PROCESSING CREDIT UNIONS WHO RECEIVED THE ASSOCIATED EMAIL:
Beginning on Wednesday, August 15, 2018, your credit union will no longer be creating any of your own Phone Optics data.  Instead, all Phone Optics data will be created within the CU*Answers Data Warehouse (FILExxDW).  Your existing Phone Optics data will remain within your production library (FILExx) but will be purged in the near future to ensure that the only data within your WRAPUP table is the Wrap-Up codes which you have configured.
This is an important step for both the Asterisk Intelligence team and CU*Answers as we embark on a new service offering, where non-transactional data (Phone Optics) will be created for your credit union exclusively within the CU*Answers Data Warehouse.  This is the first of many opportunities where CU*Answers will deliver data directly to your CU*Answers Data Warehouse for your credit union to digest, analyze, and brief your team, manager, and board members on.
Currently, the CU*Answers Data Warehouse is in beta testing with our Data Boot Camp participants, and the Asterisk Intelligence team is excited to share the results of our testing period with you and the rest of the CU*Answers network as time goes on.  If you have any questions, concerns, or if you just want to learn what non-transactional data is, please reach out to us at: ai@cuanswers.com