Nervous About ADA and Web Accessibility Lawsuits?
As you have seen in the news, there is a frightening trend of "drive-by lawsuits" emerging that target businesses, specifically credit unions, for failing to provide an accessible web experience for individuals with disabilities.  Despite there being no ruling on what is expected of businesses regarding web accessibility, courts are refusing to dismiss some of these lawsuits.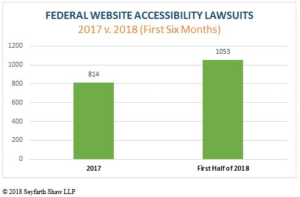 CU*Answers Can Help
CU*Answers is looking for early movers to get our new Web Accessibility Service started.  Using Siteimprove, a global leader in website content management, we have seen significant improvement in our own shared services websites by implementing the platform's recommendations for changes to achieve WCAG conformance.

Before implementation of the Siteimprove scan, this site had an accessibility score of 66.3/100 compared to the industry standard for finance, insurance, and real estate of 63.7.  By implementing the Siteimprove recommendations, we have been able to improve the score by 30 points.
Although there is no scanning tool that can guarantee ADA compliance, Siteimprove can help you reach closer to WCAG conformance which will result in a more accessible website.
Sign Up Today in the CU*Answers Store
Curious but not ready to sign up yet?
Register for the Webinar on Tuesday, August 21
Or, contact Web Services for a personal demonstration on your site.
Watch Client News for regular reporting on our own shared resources sites including the It's Me 247 Online Banking Community, Member Application Process (MAP) and Member Opening Process (MOP) sites.