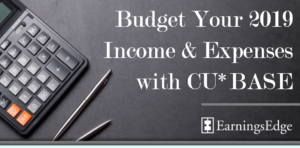 Budgeting season is here!  Did you know that CU*BASE has tools to create, maintain, and monitor your credit union's annual budget?
Join Keegan Daniel, VP of CU*Answers Management Services, Earning Edge, and Charlie Rogers, Special Projects coordinator as they help you decide how to approach your credit union's budget using CU*BASE Tools.  Learn how to use CU*BASE to forecast your 2019 Income & Expense Budget.
Thursday, August 30th
11:00 AM to 12:00 PM ET
This event is FREE to attend.