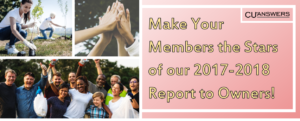 The theme for our 2017-2018 bi-annual Report to Owners will revolve around another of the 7 Cooperative Principles – specifically #3: Member Economic Participation.  The focus will be on all of the ways that members can participate with the credit union specifically because you are a cooperative, such as:
Pictures of members participating in credit union volunteer opportunities, such as your Board or committees, or voting at your annual meeting.
Members participating in CU-sponsored community events.
Members and credit union staff participating in a joint effort, such as a fundraiser or social awareness campaign.
And lest we forget the "economic" part, members participating in the cooperative's success financially.  (Do you have an owner patronage dividend or other program where you give back to members for their participation in the cooperative?)
The deadline for consideration is August 3rd, so if you have any events coming up this summer, start making plans now to involve a professional photographer.  Remember, we cannot accept all cell phone pictures or still images from videos – we need high-quality artwork.
Please direct all submissions to: marketing@cuanswers.com.  Include a caption explaining what the photo shows, and don't forget to get the permission of the subjects to include their picture in our publication!
We will select the pictures that best exemplify the cooperative principle, as well as how this and other cooperative principles truly set credit unions apart.  We hope to hear from you!