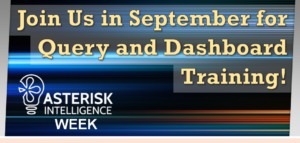 Join the Asterisk Intelligence team for a week of in-person educational events, September 10 -12!  These events are designed for credit union management, marketing staff, and database administrators.
Two days of query training will help you to become an expert user of the CU*BASE Report Builder tool.  Learn how queries are created and the value they have in analyzing member data, as we cover everything from database file structure to multiple file queries.
Monday, September 10
9:00 AM – 4:00 PM ET
Register for Day 1 of Query Training
Tuesday, September 11
9:00 AM – 5:00 PM ET
Register for Day 2 of Query Training
Get up close and personal with CU*BASE dashboards and learn how to use these in order to gain key insights about your credit union's current performance and future direction.  Gain a comprehensive look at all dashboards within CU*BASE and the value that each dashboard can bring you and your board members.
Wednesday, September 12
9:00 AM – 4:00 PM ET
Register for Dashboard Training
Each event is free to attend, but seating will be very limited – sign up today!