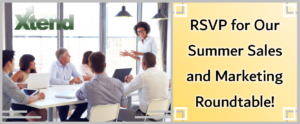 Join Xtend for the 2018 Summer Sales & Marketing Roundtable event!
This roundtable will be hosted on:
Monday, August 6, 2018, from 1:00 PM – 4:30 PM ET
And again on Tuesday, August 7, 2018, from 9:00 AM – 4:00 PM ET
Be part of the conversation – RSVP today and save your spot!  We hope to see you there!
Can't make it to Grand Rapids?  You can still RSVP to attend remotely, but be sure to check the last box on the registration form to receive conference call details at your convenience!