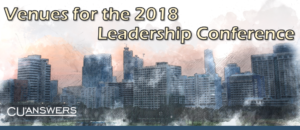 Attention registered attendees of the 2018 CU*Answers Leadership Conference!
This year's Leadership Conference will once again be hosted in downtown Grand Rapids, Michigan.  Events will be hosted at two different venues: the JW Marriott and the DeVos Place Convention Center.  Both the JW Marriott and DeVos Place can be accessed from the street level, or via skywalk – click here for a full list of directions.
Below is a map of the area surrounding the two venues.  A parking garage is located off Lyon Street for those who will be driving in to attend only Wednesday's conference events.  Or, click here to view a detailed map of the skywalk.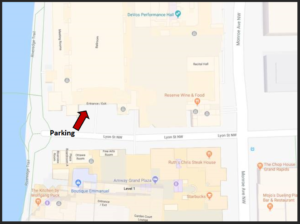 As a reminder, the agenda for this year's Leadership conference is as follows:
Tuesday, June 26
| | | |
| --- | --- | --- |
| 2:15 PM – 3:15 PM | Xtend – The Network Effect | JW Marriott – Salon A |
| 3:30 PM – 4:30 PM | Xtend Annual Stockholder Meeting | JW Marriott – Salon A |
| 4:30 PM – 7:00 PM | cuasterisk.com Cocktail Reception | JW Marriott – Pre-function area |
Wednesday, June 27
7:00 AM – 8:00 AM

Vendor Registration & Set-up

DeVos Place Convention Center

 8:00 AM – 9:00 AM

 

Attendee Registration

DeVos Place Convention Center

 8:00 AM – 9:00 AM

 

Breakfast

DeVos Place – Ballroom B

 9:00 AM – 4:30 PM

 

Leadership Conference

DeVos Place – Ballroom A

 6:30 PM – 7:00 PM

 

CU*Answers Stockholder Reception

JW Marriott – Pre-function area

 7:00 PM – 8:00 PM

 

CU*Answers Stockholder Dinner

JW Marriott – Salon BCD

 8:00 PM – 9:00 PM

 

CU*Answers Stockholder Meeting

JW Marriott – Salon A
Thursday, June 28
 8:30 AM

 

CU*Answers 27th Annual Golf Outing Registration.

Saskatoon Golf Club

 9:30 AM

 

Shotgun Start

Saskatoon Golf Club

 2:30 PM

 

Awards Ceremony & Pig Roast

Saskatoon Golf Club