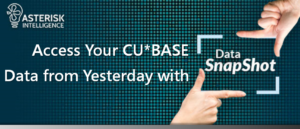 SnapShot is a free resource for your credit union to use in research and custom reporting projects. It is a full copy of CU*BASE member and transaction processing data as of a specific point in time each day. Same data, different time slice. You can build reports and do analysis with a third time slice of CU*BASE data – right now, end-of-month, and now SnapShot for end-of-day (yesterday)
Order access to SnapShot data from the Asterisk Intelligence Online Store:
SnapShot is offered by Asterisk Intelligence project and was developed in 2017-2018 with input and testing from the CU*Answers Data Boot Camp participants.
Who Will Use SnapShot?
Database Administrators – Business Intelligence Teams – Data Analysts – IT Staff/Data Processors – Report Writers
How Will I Access It?
Use your normal tools for building reports and viewing data tables – Tool 100 Report Builder (Query). It's a data library in CU*BASE so you simply modify a table location from FILExx to the new FILExxSS in order to use the end-of-day version from SnapShot.
Give Me Some Ideas – What Can I Do with It?
A few thoughts from our 2018 Data Boot Camp participants:
Research + reviewing day-to-day changes 
"If something is not correct today, look to see what it was in the previous day."
"The best example was when we were working between GOLD and a 3rd party system that was using end-of-day data from the previous day. We were trying to validate data was moving correctly between the systems, specifically loan balances (including credit cards). FILExxSS allowed us to get this detail at a true EoD snapshot and identify how the 3rd party system was incorrectly reporting the data it was receiving. Previously this would have required us to engage CU*A/the other vendor to dig into the raw files."
Easier end-of-period reporting
"It is better to use static information for reports, especially when using the same data for multiple reports."
"We track the number of checking accounts by branch each Monday. Using FILExxSS as the data source for this checking account list means the report can be pulled at any point on Monday without having to filter out today's date."
"We run a transactions report weekly and normally have to eliminate today's transactions to get an accurate picture of the week. This is one reason I find the FILExxSS version of the transaction data to be more helpful."
Consistency of data – Extracts from CU*BASE
"I see the biggest opportunities for SnapShot to be with external data warehouses. Whenever multiple tables are being exported out of CU*BASE it makes sense to utilize SnapShot to ensure a similar time slice for each new transfer. This consistency will improve the integrity of the data."
For additional information, check out the SnapShot webpage, watch our recorded webinar of a SnapShot Product Overview, or go straight to our Online Store to order query access to SnapShot data. Contact AI at ai@cuanswers.com or 800-327-3478 x 870.