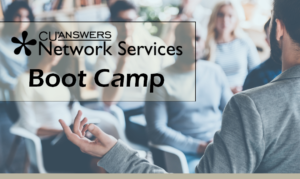 Thank you to the credit unions participating in our 2018 Spring Network Services Boot Camp!
In preparation for the upcoming two-day event, we encourage attendees to refer to the schedule, which includes a summary of the topics we will be covering.  We encourage questions at any time, but take special note of the Cloud Services and Security roundtable discussions – these are guest driven topics to dive into the areas that are important to you!
We will be meeting in the Training Center of our 28th Street location.
6000 28th St SE # 100, Grand Rapids, MI 49546