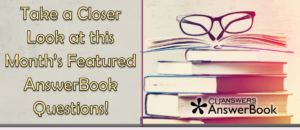 We have two featured AnswerBook questions for the month of May – check them out below!
Our first featured question for this month:
How can I view basic statistics of my loan applications, such as denied, approved, pending, and deleted?
Our second featured question for this month:
When viewing my MEMBER5/MEMBER6 tables, I notice a number in the "Interest Calculation Type" column.  How do these correspond to the interest calculation types in the Loan Category Definition?
Refer to AnswerBook anytime, anywhere; our online database of thousands of questions and answers pertaining to CU*BASE!  Click here to register for AnswerBook today!
Want to review featured AnswerBook questions from previous months?  Check them out here!