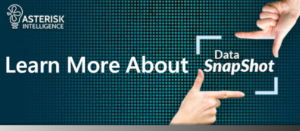 Join us for a free webinar to learn about the brand-new data environment in CU*BASE® – SnapShot. Database managers should be aware of this new data-set for research and reports, and what it means for the future of data transfer solutions from CU*Answers.
Thursday May 10 – 12:30pm EST 
Tuesday May 15 – 3:30pm EST
Register for SnapShot Overview Webinar
Attendees to either of the SnapShot live webinar sessions – May 10 or May 15 – are automatically entered* into a drawing for a Stainless-Steel Drink Tumbler from Asterisk Intelligence.
*must register and sign in to webinar with credit union email.  Limit 1 entry per credit union
Feel free to also check out the SnapShot webpage, or go straight to our Online Store to order query access to SnapShot data.
Asterisk Intelligence is your support desk for Data Warehouse, data analytics, and data strategies at CU*Answers. Contact AI at ai@cuanswers.com or 800-327-3478 x 870.