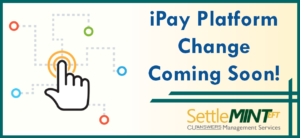 As previously announced, the SettleMINT EFT Team is working with iPay to upgrade your Bill Pay Platform!  The upgrade is coming in June for credit unions who receive the associated email, and will improve the look and feel of Bill Pay for members with no Bill Pay downtime!  iPay will facilitate training for your staff and will be in touch soon (if they have not already contacted you).
In addition to no Bill Pay downtime, there will also be:
No data conversion or data validation needed from the credit union
No SSO or URL changes
Please reach out to the SettleMINT Team at settleminteft@cuanswers.com if you have any questions.