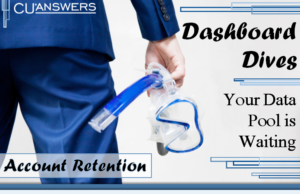 Join the Asterisk Intelligence Team for a Dashboard Dive!
Join the Asterisk Intelligence team as they review tools #103 and #104 our Account Retention Dashboards.  Have you ever wondered how your average account retention periods differ between direct and indirect loans?  Or have you wanted to analyze account retention periods by member age groups?  Learn how these questions and more can be answered using our account retention dashboards.  Take your analysis to the next level with common bonds and learn how to take action with this data using built in member communication strategies.
Ask, See, Act, and Profit with the aid of Asterisk Intelligence!
Thursday, May 17
3:00 PM – 4:00 PM ET
Don't forget: if you would like to help co-host one of our Dashboard Dive sessions, you can earn a $25 gift card!  Click here to learn more.
Or, click here to view summaries of our upcoming Dashboard Dive sessions.