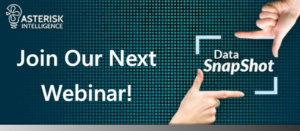 There's one more live webinar session covering our new SnapShot data set next Tuesday, May 15 at 3:30pm EST.
Register for SnapShot Overview Webinar
If you missed yesterday's session and not sure if you can make it on the 15th either…good news! We're recording it and will publish the recorded version via the OnDemand video library soon.
Don't forget – Attendees to either of the SnapShot live webinar sessions – May 10 or May 15 – are automatically entered* into a drawing for a Stainless-Steel Drink Tumbler from Asterisk Intelligence.
*must register and sign in to webinar with credit union email.  Limit 1 entry per credit union
Feel free to also check out the SnapShot webpage, or go straight to our Online Store to order query access to SnapShot data.
Asterisk Intelligence is your support desk for Data Warehouse, data analytics, and data strategies at CU*Answers. Contact AI at ai@cuanswers.com or 800-327-3478 x 870.