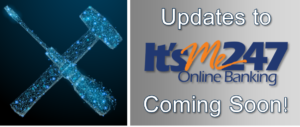 In the coming weeks, the CU*Answers Web & Mobile Development Team will be making some improvements to the user experience for It's Me 247 Online Banking.  These updates are intended to make the experience more clean and mitigate any confusion or potential misdirection for members.  Below is a list of the items that we will be implementing:
Currently, selecting the 'forgot password' option on the It's Me 247 login widget directs users to the default Online Banking page, with the standard login window and information presented.  We will be updating this so that new and more accurate verbiage is displayed, including a 'click to go back' option and a further clarification to members that a password reset will occur if they choose to proceed.
We will  be changing the user response code on password disable, in order to alert members that they can reset their password without the need to contact their credit union directly.
Improved verbiage will be displayed in It's Me 247 Online Banking for invalid password attempts and security questions.  This is to better prevent accidental password resets (this feature, while still functioning properly, is something that we feel is currently too easy for members to select unintentionally).
We will be relocating the PIB Link on the It's Me 247 login widget, and modifying the HTML for Microsoft Edge, in order to better align the positioning of the text (this update will primarily be cosmetic).
Login Widget: There were a few reports of the 'hide my typing' icon displayed in the security question field was missing and displaying "visibility_off" in its place.  This is being caused by certain firewalls blocking the resource.  In order to prevent this from happening, we are modifying that to be an embedded image.
Note: We are also still investigating an intermittent issue where some members, under some circumstances, are being logged out unexpectedly.  We will keep you updated via a separate Alert post as we learn more about what might be causing this to happen.  Click here to view the alert.