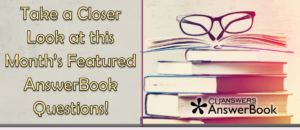 We have two featured AnswerBook questions for the month of April – check them out below!
Our first featured question for this month:
When looking at the ATM/Debit or Credit Card Activity screen, what does the indicator in the Type and Transaction Description mean?
Our second featured question for this month:
My member has contacted me and says they cannot view their check.  What information do I need to collect for use when researching this issue?
Refer to AnswerBook anytime, anywhere; our online database of thousands of questions and answers pertaining to CU*BASE!  Click here to register for AnswerBook today!
Want to review featured AnswerBook questions from previous months?  Check them out here!