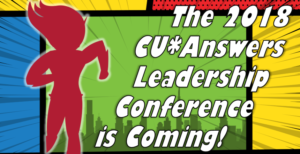 We Need a Hero!
How are your members achieving the impossible every single day?
Whether it is our employees or our members, how can we inspire people to step up and save our organizations?  Sometimes we believe we know better than our members, but we have an army of motivated, passionate, and active owners who show up every day to say "you will not take this away from me!"
Owners are our heroes.  These are the people who will save us.  These are the members we need to identify, encourage, and most importantly we need to showcase to our cooperative!
The CU*Answers Leadership Conference provides a unique opportunity to get together with your peers and hear CU*Answers' vision for our shared partnership during the coming year.
The 2018 Leadership Conference will run from Tuesday, June 26 through Thursday, June 28
(Deadline for registration is June 15)
For additional information on the 2018 Leadership Conference, including the schedule of events and location information, please visit the event website: www.cuanswers.com/lc2018