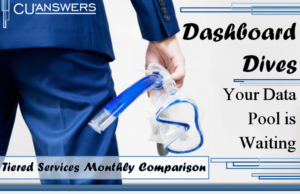 Join the Asterisk Intelligence Team for a Dashboard Dive!
Join the Asterisk Intelligence Team as they review tool #856, the Tiered Services Monthly Comparison Dashboard.  A tiered services rewards program is an excellent way to incentivize your members and encourage increased product and service participation.  Regardless of whether or not you currently offer a tiered services rewards, this dashboard scores your members' participation with your credit union and trends the data over time.  Use this dashboard for insights into product and service utilization trends, membership growth, and even insights into aggregate lending and savings balances.  Learn how to tack action on this dashboard with built in file creation and member outreach functionality.
Ask, See, Act, and Profit with the aid of Asterisk Intelligence!
Thursday, April 26
3:00 PM – 4:00 PM ET
Don't forget: if you would like to help co-host one of our Dashboard Dive sessions, you can earn a $25 gift card!  Click here to learn more.
Or, click here to view summaries of our upcoming Dashboard Dive sessions.