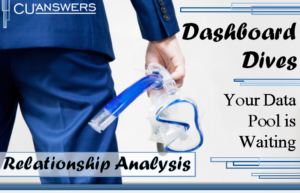 Join the Asterisk Intelligence Team for a Dashboard Dive!
Join the Asterisk Intelligence team as they review tool #752, the Relationship Analysis Dashboard.  Have you ever wondered how many members you have between the age of 18-25?  Or have you wanted to see a membership break down by age?  Learn how to use this dashboard to analyze both your member, and non-member relationships by age segment.  Take your analysis to the next level with built in Common Bonds, which analyzes your member's account composition, membership traits, credit history, and tiered service participation.  Learn how to take ACTION on this dashboard with built in file creation and member outreach functionality.
Ask, See, Act, and Profit with the aid of Asterisk Intelligence!
Thursday, April 19
3:00 PM – 4:00 PM ET
Don't forget: if you would like to help co-host one of our Dashboard Dive sessions, you can earn a $25 gift card!  Click here to learn more.
Or, click here to view summaries of our upcoming Dashboard Dive sessions.