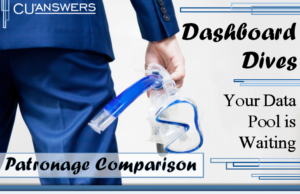 Join the Asterisk Intelligence Team for a Dashboard Dive!
Join the Asterisk Intelligence team as they review tool #582, the Patronage Comparison dashboard.  Have you ever wanted to compare different member segments to one another?  How do my Millennials differ from my Generation X members?  What transaction channels are each segment drawn too?  Learn how this dashboard can be used to compare member segments against each other providing insights into preferred delivery channels, balance comparisons, and more.  Save time with built in analysis features including channel analysis as well as common bonds.
Ask, See, Act, and Profit with the aid of Asterisk Intelligence!
Thursday, April 12
3:00 PM – 4:00 PM ET
Don't forget: if you would like to help co-host one of our Dashboard Dive sessions, you can earn a $25 gift card!  Click here to learn more.
Or, click here to view summaries of our upcoming Dashboard Dive sessions.