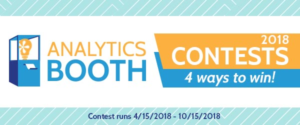 The Asterisk Intelligence Team is excited to announce two upcoming contests for Analytics Booth users!  Both contests will run from April 15 through October 15, 2018, and the winner of each will earn a $250 prize!
In order to participate in these contests, you will need to have a Analytics Booth subscription.  Not using Analytics Booth yet?  Visit the Asterisk Intelligence page on the CU*Answers store to get started!
Look for additional details on these contests to be delivered soon!