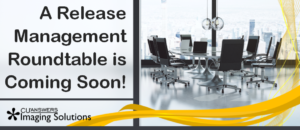 ATTENTION IMAGING SOLUTIONS RELEASE MANAGEMENT SUBSCRIBERS
Join us for a Release Management Roundtable!
The CU*Answers Imaging Solutions team will be hosting an informal roundtable webinar, specifically for subscribers of our Imaging Solutions Release Management service.
Network with your peers and discuss hot topics relating to Release Management, as well as other facets of what the Imaging Solutions team can offer to your credit union!
Wednesday, May 16
3:00 PM – 4:00 PM ET