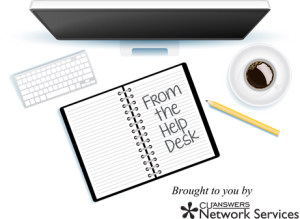 ATTENTION NETWORK SERVICES COMPLETE CARE CLIENTS
Extra Complete Care Weekly Report
What Is Happening?
Network Services is optimizing the report schedules for all Complete Care Clients.  You will be receiving a second copy of the report that you can simply discard.  Your normal Complete Care Weekly Report will continue to be sent out each week on Sunday.
Why Are We Doing This?
As part of our continued optimization of the CU*Answers RMM System we are re-scheduling all Complete Care Weekly Reports.
What Do I Need To Do?
No action is required on your part.  You may discard the extra report.
If you have questions or concerns, please contact the Help Desk at extension 266, or by email.