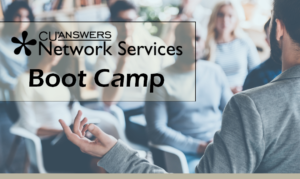 If you haven't signed up for Boot Camp yet, there's still time!
Join us May 23rd and 24th
Boot camp will help you gain competency with core product deployment and support. One of our goals is provide a tighter integration between credit union IT staff and the CNS team.
Check out some FAQ's to learn more about this exciting opportunity:
Why Should I Attend Boot Camp?
You should attend boot camp to learn in-depth CU*BASE and ProDoc troubleshooting, as well as learn more about architecture, security, administration and reporting tools.
Who Should Attend Boot Camp?
Any IT staff at the credit union interested in learning more about technical troubleshooting in a typical CU*Answers credit union environment.
Why is Boot Camp Essential?
We want to empower your IT team with the capabilities to provide your staff support for many of the commonly occurring end-user issues.
Why is Boot Camp so Great?
At Boot Camp you'll get equipped with the latest knowledge, tips, and tricks about installing and supporting core software. You'll learn the easy way how to troubleshoot and fix problems. You'll learn about the latest security defenses which you can apply both at the credit union and at home. You'll get a chance to network with peers; and it's a lot of fun!
Does Boot Camp Cost Anything?
The boot camp is free to attend; travel expenses would be incurred by the credit union.
Is Boot Camp Offered at My Credit Union?
Boot camp is hosted bi-annually at CU*Answers headquarters in Grand Rapids, MI.
Click here to sign up now and learn more about the topics that will be covered!