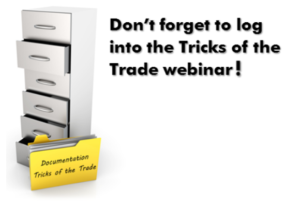 The March Tricks of the Trade webinar will be held today from 3:30-4:00 PM ET!
Simply click here and enter this password: tricks.
During this interactive and engaging webinar, you'll get an in-depth look at documentation related to enhancements from the 18.03 Release of CU*BASE, online banking transfer controls, Temp2Perm Card Processing, and more.
Don't have time to attend? Send one of your colleagues in your place and have them report back to the team on their takeaways!
Have new team members? This is the perfect opportunity to help them add to their skill set!
See you there!